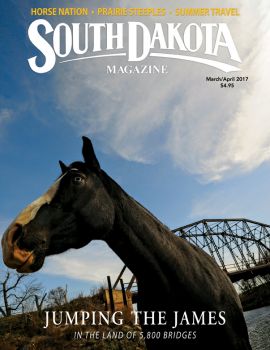 Subscriptions to South Dakota Magazine make great gifts!
Subscribe today — 1 year (6 issues) is just $25!

South Dakota's 66 Counties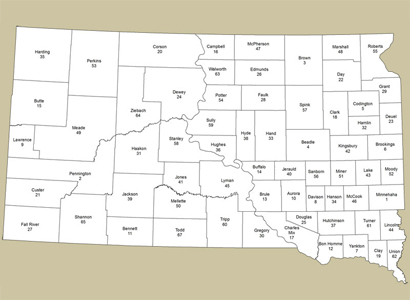 When it comes to South Dakota counties, how many is too many? Sixty-six might seem like a lot, but we wouldn't want to cross a single one off the map. Each county has its own blend of history, landscape and culture — and that special blend is reflected in the people we find there. John Andrews is celebrating the fun, interesting things that make each South Dakota county unique in this series of web columns.
As our managing editor, web editor and history columnist, John Andrews writes features, edits our many departments and oversees the day to day writing of the magazine. A Lake Norden native, John attended SDSU, wrote for the Brookings Register and earned a master's degree in history at USD before joining our staff. Read more of John's work in his online columns or in each issue of South Dakota Magazine.

October 20, 2015
Maybe higher powers are guiding life in Grant County.


October 6, 2015
I-90 travelers know about Al's at Oacoma, but why not take a break in Brule County?


September 22, 2015
Beautiful country and Lakota culture abound in Todd County.


September 8, 2015
They're both part of life in Spink County.


August 25, 2015
Life in Campbell County has often revolved around the mighty Missouri River.


August 11, 2015
Lakes, rivers, shrines and the inspiring story of two martyrs offer opportunities for quiet reflection.


July 28, 2015
Haakon County was named for a Norwegian, home to a famous Scotsman and could hold Mexican buried treasure.


July 14, 2015
Visiting an ancient boulder is just the start of a tour through Moody County.


June 30, 2015
Whether it's rodeo, cards or even social justice, people have won in Sully County.


June 16, 2015
History and geography have challenged the folks of Oglala Lakota County, but the future is solidly in their hands. Photo by Carl Johnson.


June 2, 2015
You'll find both in Marshall County. Photo by John Front.


May 19, 2015
A creative streak runs though Perkins County.


May 5, 2015
You might think 66 is over the top, but there are interesting stories and places in every county. Today we begin a statewide exploration to find them, beginning in Bon Homme County.