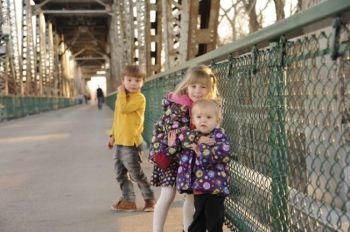 Walk On Water in Yankton
Nov 23, 2011
Now the historic bridge will be a pathway for joggers and walkers, baby carriages, bicyclists, skateboarders and the like. It is the longest pedestrian bridge in the USA that connects two states over a major river. The Newport Bridge, an 1896 railroad bridge that links Kentucky and Cincinnati, had that distinction until today. It is 2,670 feet long, and was redone for foot traffic about a decade ago. The Meridian easily surpasses it at 3,013 feet. The third longest is a new structure, the Bob Kerrey Pedestrian Bridge, built to connect Omaha with Council Bluffs, Iowa. It measures 2,224 feet.
Today at 3 p.m. the Meridian Bridge will be re-opened to the public after being closed for three years. But the bridge will never see another 18-wheeler ... and it isn't even likely to carry a compact car.
Eventually, Yanktonians and Nebraskans hope that walking/biking paths will connect the Meridian Bridge to the bridge over Gavins Point Dam, about four miles to the west. A path already exists on the South Dakota side, and Nebraska officials are making plans for theirs. The 12-mile loop would instantly become one of the most unique trails in the USA, taking hikers and bikers past eagle roosts, quaint restaurants, a sailing marina, small farms and forested river bottom. City officials in Yankton also hope to design and build an attractive plaza at the foot of the bridge.
The Meridian is one of the very few double-decker bridges in the nation. It took its name from the Meridian Highway (US Hwy 81) that cuts through the Americas from Winnipeg to Panama City. Yankton citizens took it upon themselves to fund and build the bridge in 1924 because they thought state officials were too slow in getting the project started. They paid for it with tolls until the debt was retired in 1953.
The bottom deck was intended for rail traffic, but a north-south train route to Yankton never materialized, so officials sent northbound traffic on the top and southbound traffic below. Its classic towers were designed with hydraulic lifts to allow ships to pass underneath. However, ships have been as rare as trains.
Cars and trucks traveled the bridge to the tune of 5,000 or more a day until a new bridge was completed in 2008. Historians on both sides of the river objected to having the old bridge destroyed. In fact, local leaders agreed that they would settle for a plain design on the new bridge so long as the savings were directed to preserving the Meridian as a footbridge.
So beginning this Thanksgiving week, after a very long wait and $4 million or more of your tax dollars, the old Meridian will once again carry traffic. Now you can walk on the Missouri without getting your feet wet.
We hope to see you there.