About South Dakota Magazine
PUBLISHED IN HISTORIC YANKTON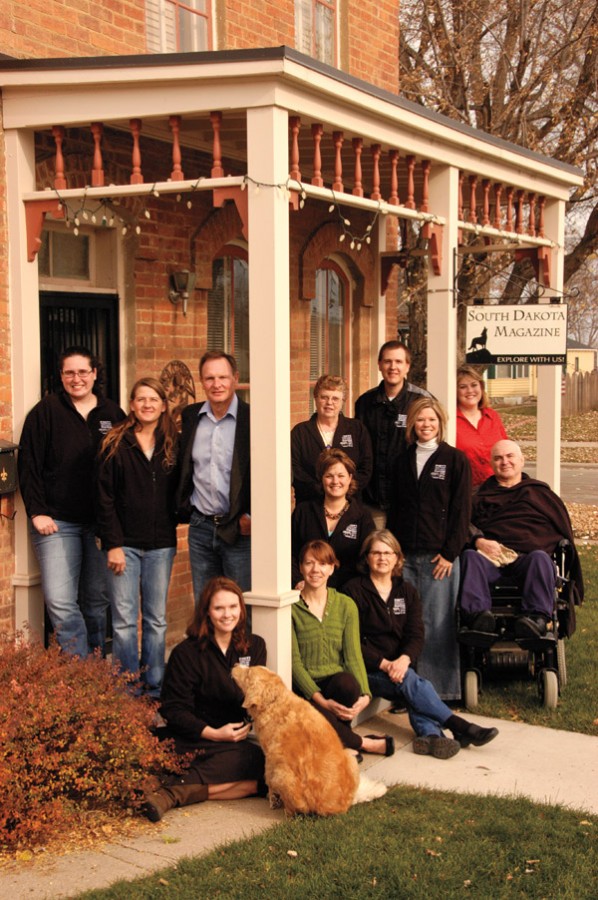 SOUTH DAKOTA MAGAZINE explores the state, looking for interesting people and places that define our culture, heritage, arts, nature and communities.
The bi-monthly (6 per year) publication is written and headquartered at Yankton, the historic Missouri River city that was once the territorial capital.
Our publishing headquarters encompasses three old brick buildings in downtown Yankton that were built in the 1870s by Territorial Governor John Pennington.
Readers interested in history and architecture are always welcome to stop for a quick tour. You'll find us at 410 E. 3rd Street, at the far east end of Yankton's main street.
Our staff of 11 includes Bernie Hunhoff, the editor and publisher. Bernie founded the magazine in 1985.
Thank you for your interest in the magazine. We hope you'll join our reading family, and explore South Dakota with us on a regular basis.
---
Meet Our Staff
Bernie Hunhoff - Publisher

Bernie started the magazine in 1985 after working in the newspaper business in South Dakota. He has been stuck on gumbo trails in Lyman County, been hissed at by rattlers at Porcupine and forced to eat everything from lutefisk to roast goat. It's all part of the job of publishing South Dakota Magazine.

Katie Hunhoff - Editor


Katie coordinates our feature articles and photography, and guides the editorial process along from issue to issue. She lives next door to the magazine in one of Governor Pennington's funky old brick houses.


John Andrews - Managing Editor


Our editor is John Andrews, a Lake Norden native who attended SDSU, wrote for the Brookings Register and earned a masters degree in history at USD before joining our staff.


Roger Holtzmann - Contributing Editor


Roger is a veteran staffer. He has been contributing since 1989, and now writes features and a humor column for the magazine.


Rebecca Johnson - Special Projects Coordinator


Rebecca is our only staffer who has ascended to the summit of Crow Peak, but that's not why she works here. She is multi-talented — helping with writing, editing, photography and production. In their spare time, she and her husband Jeremy enjoy running and other outdoor opportunities in South Dakota.


Andrea Maibaum - Production Manager

If you like how the magazine looks, then please compliment Andrea. She's our chief designer both of the advertising and the editorial pages.


Heidi Marsh - Sales and Marketing Director


Heidi is our Sales and Marketing Director. She's happiest when the phones are ringing with new subscribers. Heidi grew up on her family's horse farm south of Yankton, and she interned at our offices while attending Buena Vista University in Iowa. Then she returned home to work at the magazine. Or did she return for the horses?


Emily VanDerhule - Sales Coordinator


Emily is part of our sales and marketing team so chances are you've talked to her on the phone. She lived in Denver for a better part of her life, but returned to Yankton for family and the river ... ask her about the wild turkeys that mingle outside her home.

Laura Andrews - Assistant Marketing Director


Laura grew up on a farm east of Yankton but left for many years to the big city of St. Paul. She returned in 2006 because of a yearning for family and a garden (she has a passion for weeding).

Ruth Steil - Administrative Assistant


Ruth's varied responsibilities range from running our front office to bookkeeping, payroll, book sales and managing newsstands.

Jana Lane - Circulation Director


Jana strives to keep our 46,000-name mailing list current and up-to-date. She also enjoys raising appaloosa horses with her family on a farm near Yankton.

Yeller - Greeter


Yeller is the Official Greeter at South Dakota Magazine. He isn't the best worker; he's been known to nap the day away and he can't spell his own name. But he kisses up to customers, he never complains about his salary, and he doesn't waste time on the internet, so we tolerate him.