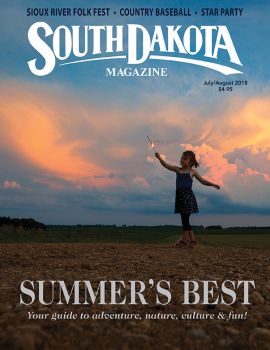 Subscriptions to South Dakota Magazine make great gifts!
Subscribe today — 1 year (6 issues) is just $25!

Current Issue
July/August 2018
A One-Road Music Fest: Eliza Blue takes us backstage at the Sioux River Folk Festival.

Baseball at Four Corners: Our pastime flourishes at a lonely West River highway junction.

The Sylvan Lake Paintings: Watercolor artist Jon Crane hikes and paints out of his comfort zone.

Badlands Star Party: The universe comes alive in one of South Dakota's darkest places.

A Sailing School: The Gavins Point Yacht Club is training a new generation of sailors.

Back to the Prairie: Rediscovering artist Eugene Christopherson and his lost 'Little House' paintings.

Larger than Life: Remembering August Klindt, the Gann Valley Giant.
---
Past Issues of South Dakota Magazine
2018
2017
2016
2015