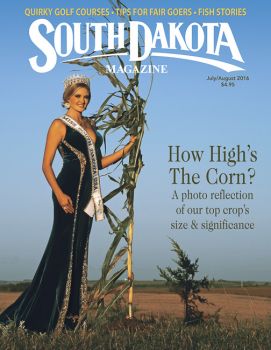 Subscriptions to South Dakota Magazine make great gifts!
Subscribe today — 1 year (6 issues) is just $23!

July/August Issue
MAY/JUNE 2016
How High's the Corn?: Our top cash crop's cultural heights.

Back Seat with Fish: Henry Hughes experienced fishing, football and faith in Mitchell.

Swinging on the Rocks: Bouldering — a blend of gymnastics and rock climbing — was born in the Black Hills.

Naming Jett: Reviving a Native American christening ceremony.

Rattlesnake Under His Hat: Reptile Gardens founder Earl Brockelsby was a snake whisperer.

Frosting Zebras: Bakers wanted at Centerville's Royal Bake Shop.

Golf Outside the Box: Exploring South Dakota's quirkiest golf courses.
---
Past Issues of South Dakota Magazine
2016
2015

2014

2013

2012

2011



2010